Revitalizing Ida-Viru Sadamad's
Digital and Physical Presence
Embarking on a journey to elevate Ida-Viru Sadamad's brand and digital presence, we aimed to craft a modern identity reflecting its innovative maritime operations.
About Client
Ida-Viru Sadamad, a reputable harbor management and development entity in Ida-Virumaa, sought to enhance its service delivery through an inviting online platform and coherent branding, setting a course towards a digital horizon, embodying the essence of modern maritime services.
Our Services
Branding: Development of a modern logo along with a comprehensive branding book providing guidelines on logo usage and other brand elements.
Website Development: Creation of a responsive, visually appealing website showcasing the harbors, enriched with drone and 360-degree photography.
Photography: On-site visits to each harbor to capture high-resolution drone and 360-degree photographs for marketing purposes.
Advertising Materials: Design of various advertising materials including t-shirt and polo designs, flag designs, outdoor advertisements, harbor icons, directional signage, navigation instructions, LinkedIn, and Facebook cover designs.
If you feel that you need a similar solution for your company, then contact us – our contacts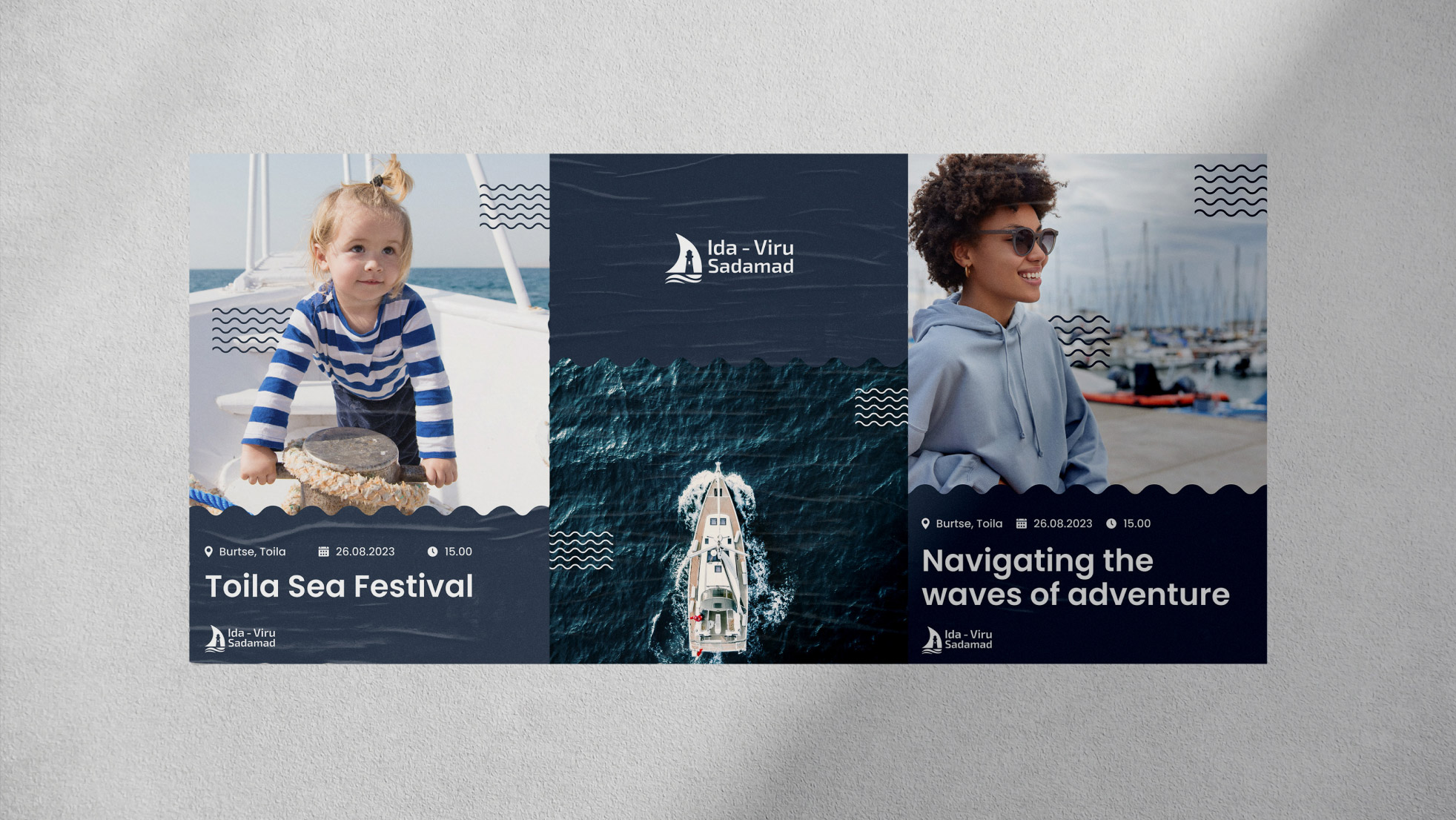 The journey began with an in-depth analysis to understand the unique attributes and requirements of Ida-Viru Sadamad and its harbors. A collaborative approach was adopted to ensure all stakeholders were aligned with the proposed branding and digital strategies. The process was meticulously planned and executed in phases – starting with branding, followed by website development, photography, and advertising material design. Regular reviews and feedback loops were established to ensure the project stayed on track and met the high-quality standards set forth, ensuring a successful transformation of Ida-Viru Sadamad's digital and physical presence.
The absence of any pre-existing branding and digital presence posed a significant challenge. Starting from scratch, we needed to ensure the newly created brand identity would resonate well with both the existing clientele and potential visitors. Additionally, gathering all the necessary information and translating it into a user-friendly, informative, and visually appealing website was a substantial task. The project also demanded a balance between creating a modern, digital interface while preserving the maritime tradition and essence of Ida-Viru Sadamad and its harbors.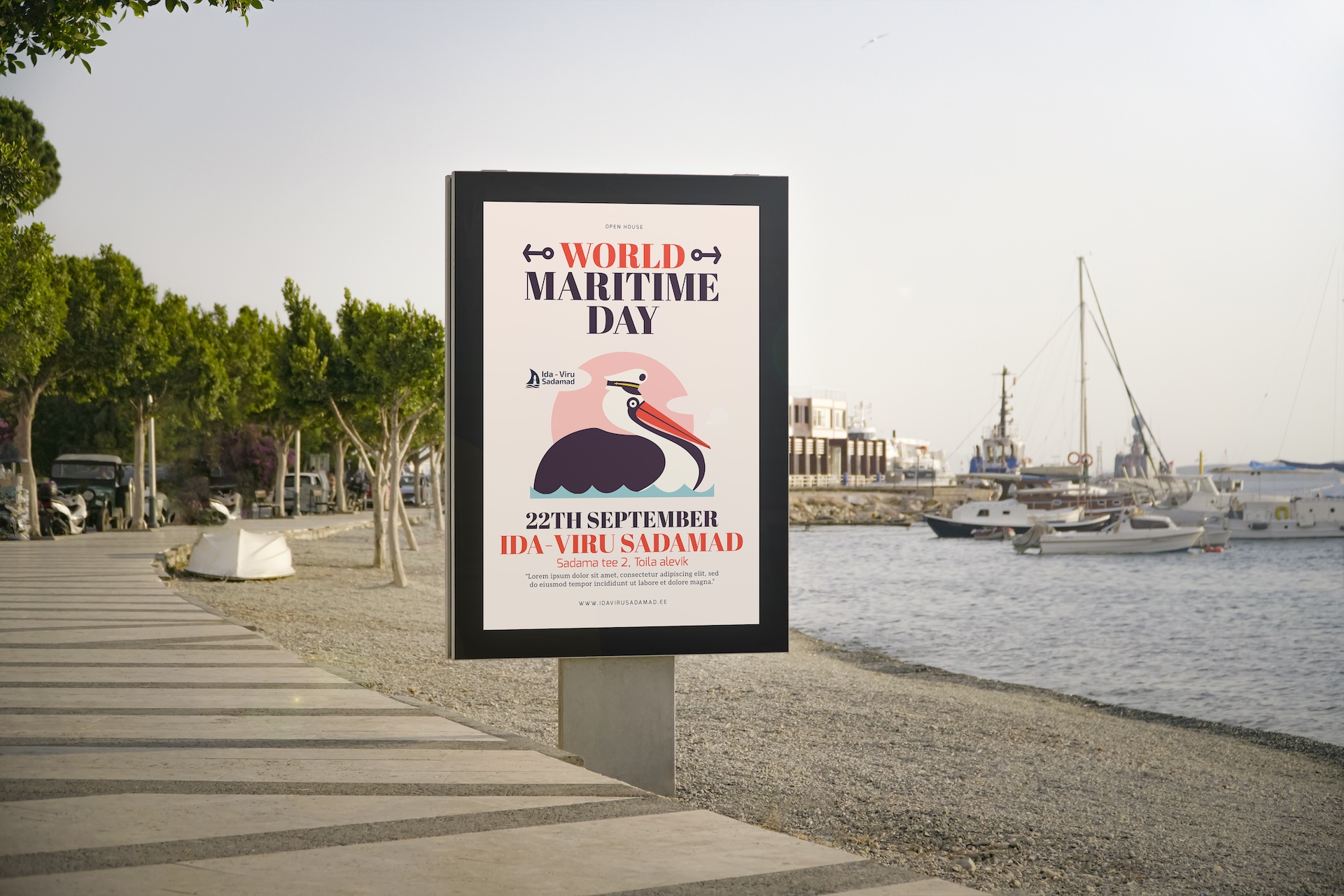 Our primary aim was to craft a unique brand identity for Ida-Viru Sadamad, ensuring consistency across all platforms. Developing a user-friendly, informative website to serve as a digital hub was crucial. Capturing high-quality imagery to enhance marketing efforts and designing a range of advertising materials to boost the brand's visibility and engagement were also key objectives. These goals were designed to propel Ida-Viru Sadamad towards becoming a recognizable name in the maritime industry, providing a solid foundation for their future marketing endeavors.
The inception of Ida-Viru Sadamad's branding journey was marked by the creation of a modern, recognizable logo. This logo, encapsulating the serene maritime essence and the emblematic lighthouse of Narva-Jõesuu harbor, became the cornerstone of the brand's identity. A comprehensive branding book followed, delineating the brand's color palette, typography, and imagery guidelines, ensuring a coherent brand presentation across various platforms.
Our digital endeavor entailed the crafting of a user-centric website, each harbor given a dedicated page detailing crucial information and services offered. The integration of interactive vessel declaration and feedback forms streamlined communication, enhancing user engagement. The infusion of drone and 360-degree imagery offered visitors a virtual tour, enriching the digital experience and providing a visual feast that significantly enhanced online engagement.
The endeavor significantly elevated Ida-Viru Sadamad's brand image and digital footprint. The intuitive website, enriched with individual harbor pages and interactive forms, saw increased traffic, providing a user-friendly platform for sailors and visitors. The advertising materials bolstered marketing campaigns, while the high-quality imagery enhanced online and offline engagement. Positive feedback from stakeholders affirmed the successful transformation, setting a robust digital foundation for Ida-Viru Sadamad's ongoing and future marketing endeavors, thus manifesting a resonant brand identity in the maritime domain.
Elevated brand image and digital footprint for Ida-Viru Sadamad.
Increased website traffic through intuitive design and user-friendly interface.
Bolstered marketing campaigns with a range of advertising materials.
Enhanced online and offline engagement through high-quality imagery.
Received positive feedback from stakeholders affirming successful transformation.
Set a robust digital foundation for ongoing and future marketing endeavors.
Manifested a resonant brand identity in the maritime domain.
"Our collaboration with Voolar Agency marked a significant turning point for Ida-Viru Sadamad. The vibrant brand identity resonates well with our stakeholders. The logo is visually appealing and encapsulates our progressive spirit. The website overhaul was handled with unmatched professionalism, now exuding a modern aesthetic with intuitive navigation. The high-quality imagery significantly enhances our marketing efforts. The diverse range of advertising materials has given us a robust toolkit for our marketing campaigns. Working with Voolar Agency has elevated our brand image and set a solid foundation for our future marketing endeavors."
Mehis Luus, Ida-Viru Sadamad SA
Creative director: Arvo Juhkov
Design lead: Kseniia Klimchuk
Web lead: Roman Aljohhin